Keynote speaker
Franz G. Rammersdorfer, Vienna University of Technology (TU Wien), Austria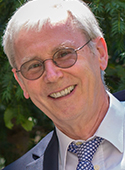 Franz G. Rammerstorfer is a permanent faculty at the Vienna University of Technology (TU Wien)
He received his PhD in 1976 from TU Wien. After a number of years in industry and several stays abroad, he received the venia docendi  for "Mechanics" and became 1983 full Professor for Lightweight Structures and Aerospace Engineering at the Vienna University of Technology. 1991-1997 he was Co-Chairman of the Christian Doppler Laboratory for Micromechanics of Materials, and 1998-2007 he served as Vice-Rector for Research at TU Wien. 2003/2004 he was Visiting Professor at TU Munich.
At the time being Rammerstorfer is Professor emeritus and Rector of CISM (Int. Centre for Mechanical Sciences) Udine, Italy.
Rammerstorfer has received several awards, among them full membership of the Austrian Academy of Sciences and of the Academia Europae; he is IACM-Fellow, CDG-Senior Fellow, and recipient of the Viktor Kaplan Medal.
« Go Back